Adrenaline activities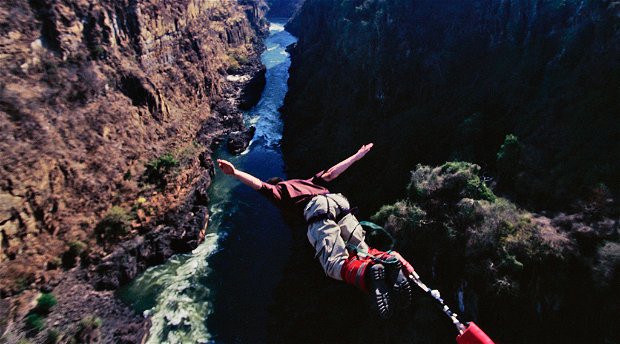 "I think I have an adrenaline addiction, no question about that." - Tom Waits
If you are looking for a bit more excitement, look no further. The area surrounding Livingstone offers plenty of possibilities to get your pulse racing! From bungi jumps to huge gorge swings, all will boost your adrenaline levels to new heights!
Bungi jumping
Bungi jumping is a high adventure, adrenalin pumping activity at the Victoria Falls. The jump is a 111m off the Victoria Falls Bridge.
The Victoria Falls Bridge is accessible from both Victoria Falls, Zimbabwe and Livingstone, Zambia.
Gorge/bridge Swing
Guests can do Gorge/Bridge Swing freefalling for up to 70 metres into the Batoka Gorge.
For the Bridge swing this includes exclusive access to the walkway platforms under the historical Victoria Falls Bridge.
Gorge/bridge slide
The mildly adventurous Bridge Slide (Zipline), can be done alone, or with a friend.
Abseiling
Abseiling is done in the spectacular Batoka Gorge, carved over millions of years by the raging Zambezi River.  It is around 350m wide and over 100m deep.
Thousands of people have since thrown themselves screaming out into the gorge and come up wide-eyed and beaming.