Wildlife activities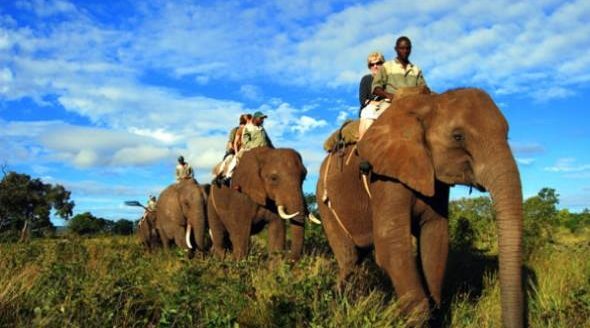 "If we can teach people about wildlife, they will be touched. Share my wildlife with me. Because humans want to save things that they love." - Steve Irwin
Elephant rides
Elephant rides are a truly relaxing way to safari through the African bush atop the world's largest land mammal, the African elephant. Enjoy this amazing experience as you ride the elephants with your mahout and guide who take you on a journey packed with interesting information about the gentle giants, as well as the bush around you, whilst taking in the sights and sounds of Mother Nature.
Most elephant rides last roughly an hour whilst total interaction time with the elephant is close to 3 hours.
Horse rides and Horse carriage rides
The Victoria Carriage Company offers magnificent horseback rides from the Falls Resorts along trails within the National Park which lead to spectacular views of the Victoria Falls.
In addition a Victorian style horse drawn carriage is operated in and around Sun International's Falls Resort complex, transporting you back to a former era of grace and charm.
Mosi–Oa–Tunya Park game drive
The Mosi-oa-Tunya National Park encompasses the Victoria Falls and stretches some 12 kms along the riverbanks of the upper Zambezi River.  It is just about 5 km from Livingstone town.

Elephant, buffalo, white rhino, hippo, crocodile, giraffe, zebra and several antelope species are found in the Park.

Game drives in open 4 x 4 vans are usually done in the morning and afternoon and last about 3 hours.
Birding safari
Zambia has some of the highest bird species concentrations on the continent and some of the most beautiful and wild birding destinations.
The Mosi–Oa–Tunya Park also has abundant birdlife to be explored. Canoeing safari on the Zambezi River is an exciting option for birding safari.
Rhino walk
The Zambia Wildlife Authority has embarked on a wildlife reintroduction programme. The white rhino is one of the species that has been introduced and experiencing some growth.
For rhino walks, each group is accompanied by an armed escort scout from the Zambian Wildlife Authority.
The duration of the safari is about 4 hours
Lion walk
 African lions have tremendously declined in population in the past 30 years. Efforts are being made to re-introduce the offspring of captive-bred African lions back into the wild. 
 Lion walk safaris can be organized by the lodge or hotel.
Chobe day trip
Chobe National Park in Botswana is home to one of the largest game concentrations in Africa. It is only an hour's drive from Livingstone town.
A full day Safari package comprises a cruise on the Chobe River and a game drive in the untamed Chobe National Park.
Guests depart from hotel or lodge in Livingstone and are transferred by road to the ferry at Kazungula border. After a short boat ride across the river to Botswana, guests are met by their guide.