Water activities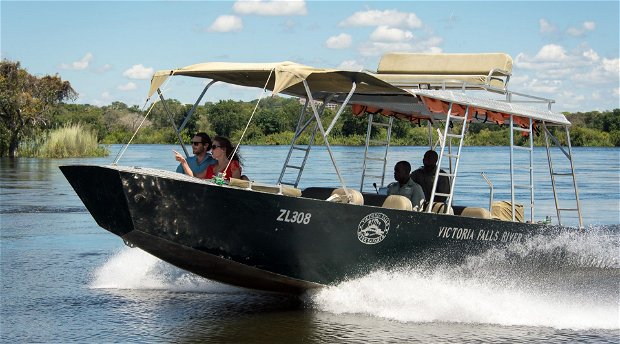 "What would life be if we had no courage to attempt anything?" - Vincent van Gogh
Zambia is home to the mighty Zambezi river, offering amazing activities to experience this beast of river on different levels. When visiting Zambia, hitting the water is a must-do-see-feel for any traveller!
Boat cruises
The boat cruises are upstream the Victoria falls along the Mosi-Oa-Tunya National Park boundary. This is usually 2 hours, included are beverages, snacks and return transfers within the Livingstone area.
The river safari
Victoria Falls River Safaris offers you an exceptional upper river safari experience. The specifically designed propeller-free safari boats can operate in water as shallow as 20cm, increasing the operational range to as close as 200 metres from the Victoria Falls. As a result, offering cruises to amazing parts of the Zambezi river that have previously been out of reach.
Guests can enjoy the thrill of speeding over rapids then slowing down for a leisurely game viewing trip around the islands.
White Water Rafting
The white water rafting on the Zambezi River is internationally acclaimed as the best one-day white water rafting trip available in the world today.
The best time for rafting is when the water levels are low.
Jet Boating
Jet boating is a thrilling new adventure on the Zambezi River in the Batoka Gorge below the Victoria Falls. Feel the wind in your hair and the spray in your face as the powerful jet boats speed through rapids, rush past gorge walls and spin on the flat water.
The 30 minute jet boat trip can be combined with a spectacular helicopter flight (from a heli pad by the river) through the gorge flying just above the water level and then over the Victoria Falls.
Canoeing
Privately guided canoe safaris take you through narrow channels on the magnificent Zambezi River.
Accompanied by a professional guide, experience breathtaking scenery and incredible game viewing with a choice of a half day, full day, or the amazing overnight experience. Truly one of the most exciting and adventurous activities in all of Africa!
Tiger fishing
With over 75 species in the Zambezi River waters, you can't go wrong with a fishing excursion. It offers one of the most exciting and challenging experiences for avid anglers: an opportunity to catch the Tiger Fish.
Rated by many sports anglers as the finest freshwater fighting fish in the world, this powerful and swift predator is sure to give you a run for your money.